10 Tbilisi Art-Cafes Changing Georgian Identity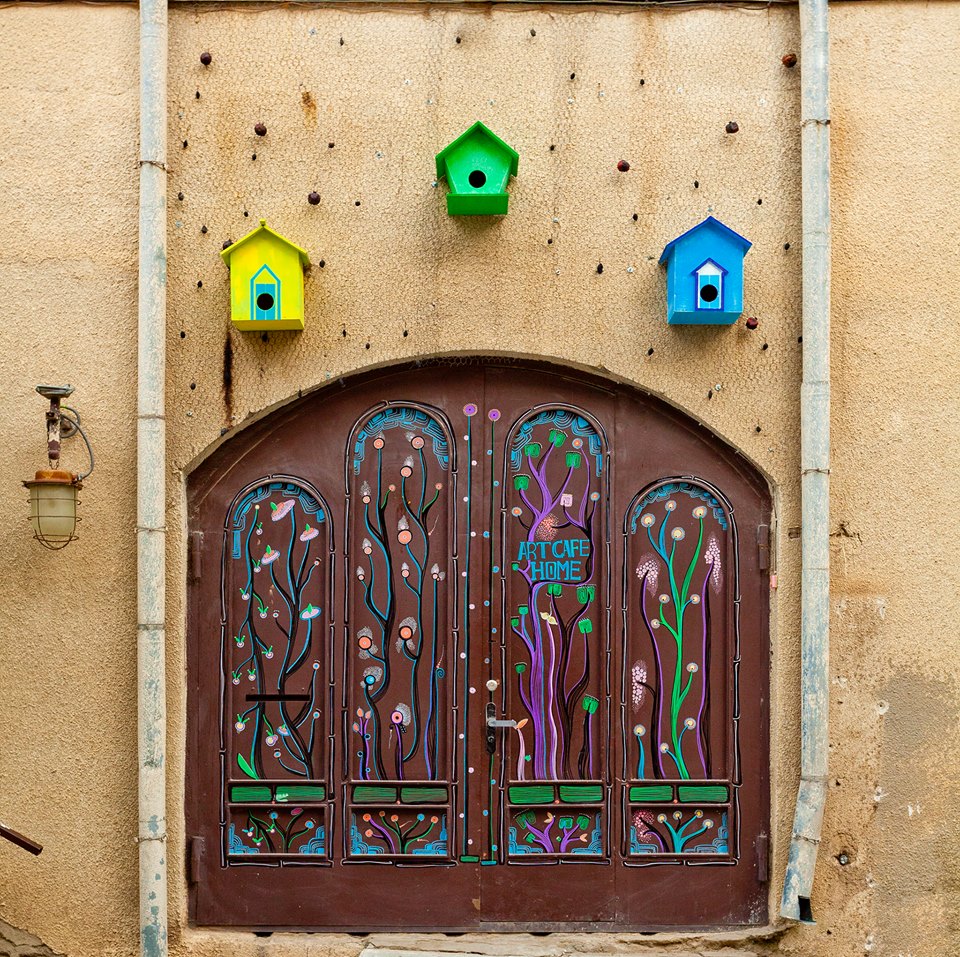 1. Art-Cafe HOME
While most cafes display artwork on the walls, Art-Cafe HOME—a converted three-story house in Tbilisi's old city—integrates it into the building itself. The library is covered in pages from books that demonstrate how they chose the Georgian language over Russian. Soup ladles, tea mugs and dried peppers decorate the walls of a kitchen-turned-sitting space to exhibit Georgia's rustic and proud culinary tradition. Stop in and ask approachable owner and creator Giorgi Kekelidze about HOME's genesis. He will tell you about his father's artwork that lines the walls and the ceiling, and how he rescued it from the fate that most local art suffers—being locked away in storage, without buyers or the opportunity to be seen on an international scale. On a typical evening, bartenders mix house cocktails to funky music until HOME's underground nightclub Ground Zero opens, where a DJ spins among glow-in-the-dark murals. Grab some coffee or gazpacho the next day to help cure your pounding post-rage headache.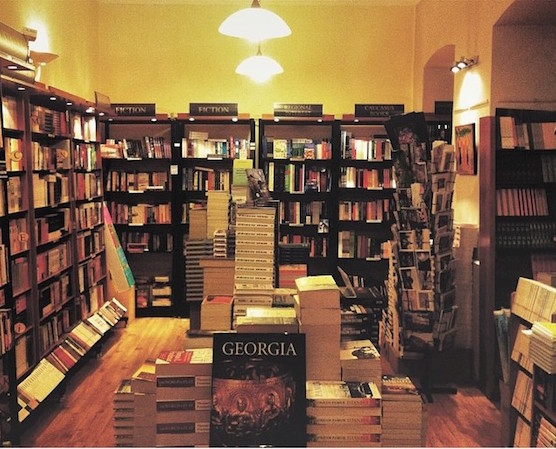 2. Prospero's Books and Caliban's Coffeehouse
After weathering the literary censorship of the Soviet Union, it's fitting that a hidden bookstore is a mainstay in Tbilisi cafe culture. Wander through a gated tunnel off Rustaveli Avenue, the main shopping street, and pick up a book at Prospero's to help you decipher the strange loops that make up the Georgian language. You'll also find books relevant to the region, like Wendell Steavenson's Stories I Stole about the author's decision to leave Time magazine in London to move to Georgia, or Mikail Eldin's The Sky Wept Fire, which documents the author's time as a reporter in the Chechen War. The coffeehouse at Prospero's, Caliban's, imports green coffee beans directly from Columbia, Indonesia, Kenya, Brazil, Haiti and India and creates their own blend and custom roast. Tables and chairs fill the quiet courtyard that provides resting place for a coffee and book after a busy day of sightseeing.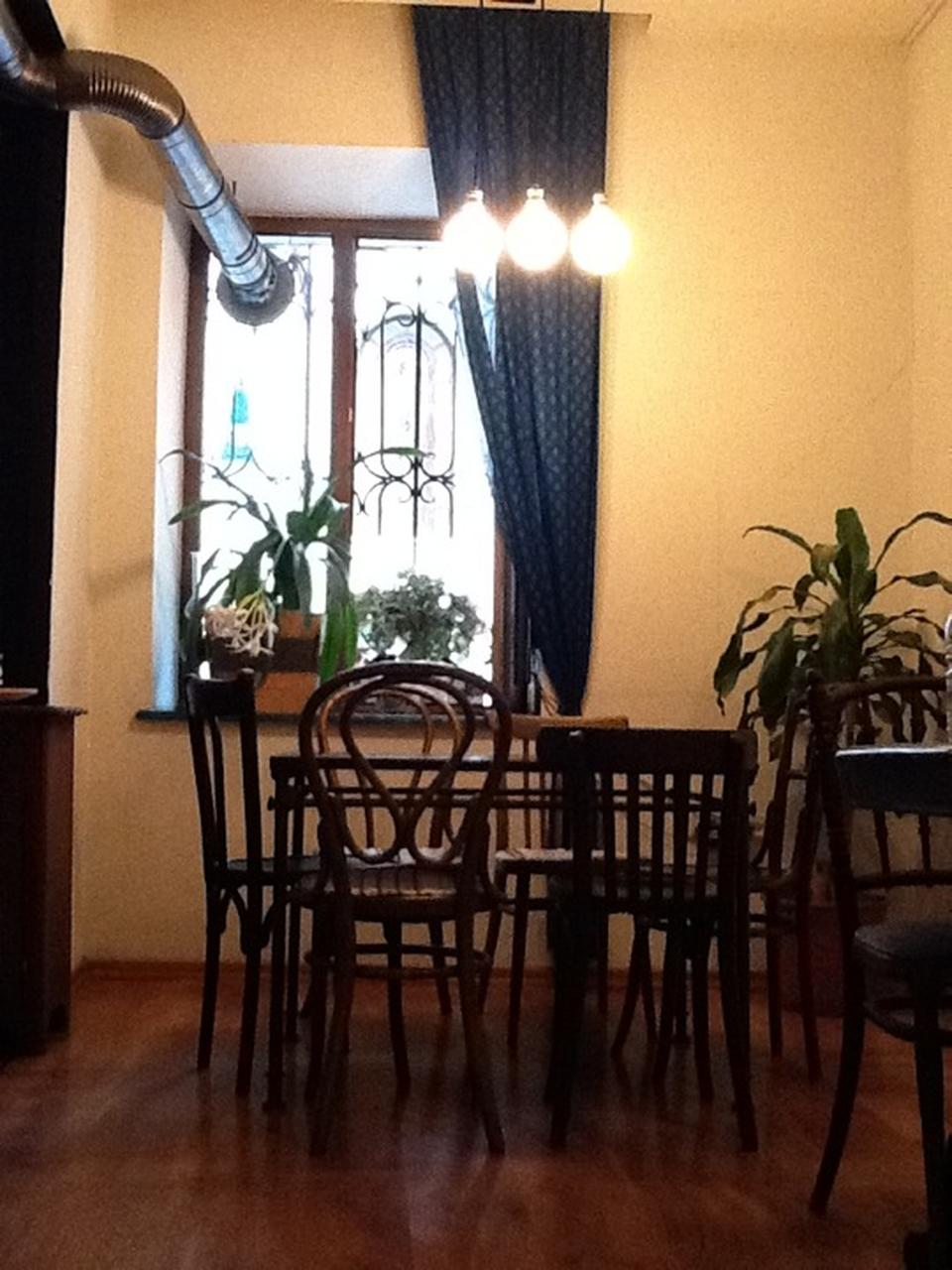 3. Moulin Electrique
Moulin Electrique makes an excellent hideaway for a writer working on their next great manuscript beside a tall glass of red wine. The straight-backed wooden chairs, round tables and converted library card catalogs push a Paris Bohème meets mysterious Georgian arabesque. Painted-on placemats and unfinished walls provide the perfect backdrop for planning the next countercultural revolution. The Saperavi, a dry Georgian wine made from red grapes native to Georgian soil, makes an excellent and inexpensive compliment to hushed patio conversations about the local art that decorates Moulin Electrique's walls.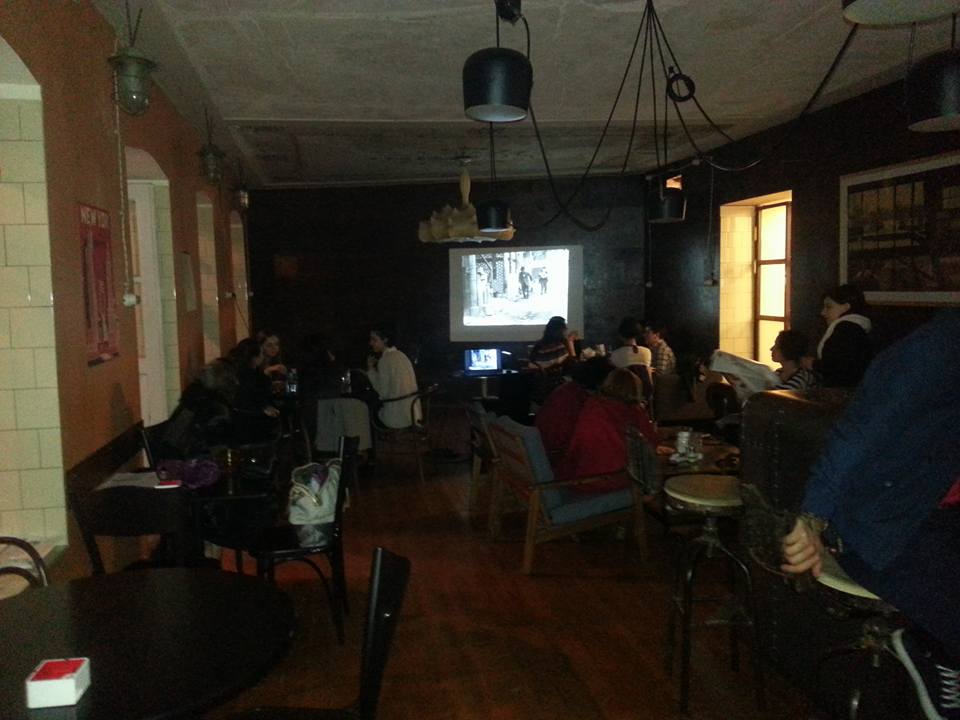 4. Factory 27
Factory 27 mashes 1990s street culture with the pop art world of Roy Lichtenstein by displaying prints of Spray and Kiss II alongside a massive, two-story original mural from breakout Tbilisi graffiti artist TamOonz. The menu features hard-to-find food in Eastern Europe like tacos, quesadillas and falafel with homemade salsa, guacamole and hummus, and it changes during certain weeks as the chef explores international cuisines, bringing Italian Week or Mexican Week to Tbilisi. Drinks in bold reds, yellows and greens match the art on the walls, and special guests, like local downtempo DJ Trotsky, enliven the atmosphere on weekends with bumping tunes.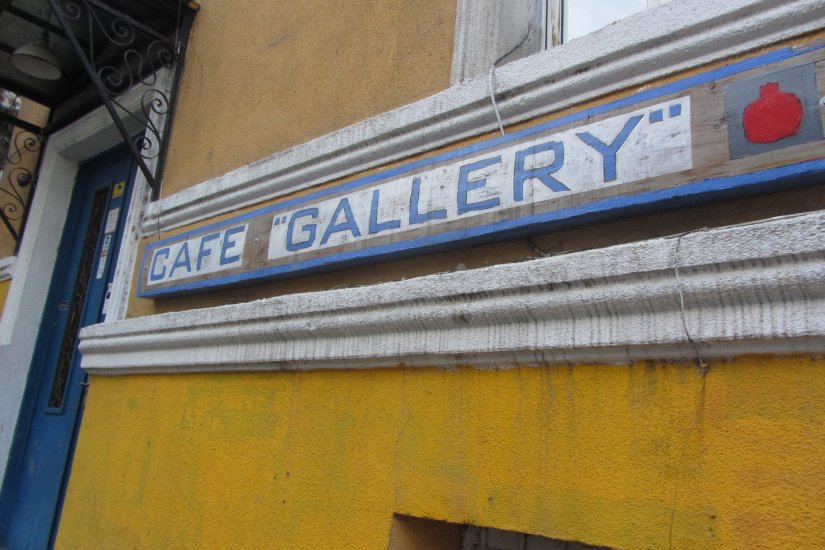 5. Cafe-Gallery
Across Rustaveli Avenue from the Radisson Blu, a yellow building at the turn onto Alexander Griboedov Street fosters a contemporary art gallery, cafe, bar and nightclub. Art students from the Tbilisi Art Academy down the block make Cafe-Gallery especially relevant to the area as it provides local talent with a much-needed outlet to exhibit new works. Go for the lunchtime special, which includes soup, salad and homemade juice for under five dollars. For the soup, try their okroshka: a cold, summer broth made from cucumbers, potatoes and ham. If the weather is nice, find the back door which leads to a sun-lit, garden patio.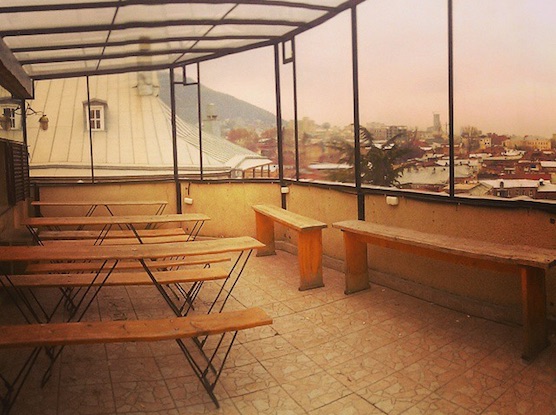 6. Boogie Woogie Pre-Club Bar
Post-Soviet nightlife is laden with nightclubs that play only one type of music for somewhat insular people in belligerent and chauvinistic atmospheres. Boogie Woogie (pictured above) was originally established as a nightlife option for people who didn't fit the post-Soviet mold. Complete with waiters in wigs and patrons of all shapes, colors and sizes, this club/bar plays updated disco music on Fridays and new electronic music on Saturdays, while a massive overhead screen projects psychedelic video art. Break from dancing on the second-floor balcony and look out at the Tbilisi skyline. Boogie Woogie features a happy hour and the occasional free drink, so keep an eye out for a free apple pie test-tube shot to keep the dance floor funky. Bouncers keep out anyone who might bring down the chill vibes—called "face control" in Georgia.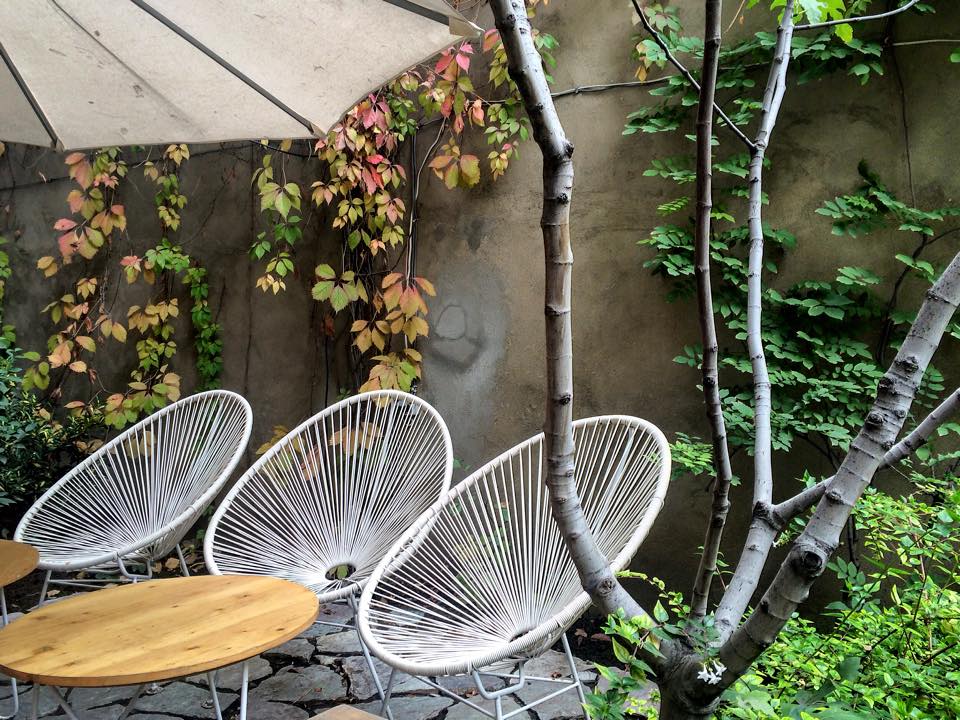 7. O Moda, Moda
This cafe, where change is the only constant, is also an art gallery, event space and marketplace for local fashion designers, jewelry-makers and artisans. Local vendors and artists reshape the space regularly with their new innovations as the chef experiments with fresh and healthy ingredients to add to their ever-changing menu. Inspect your new purchases by the fireplace or outside under a fig tree.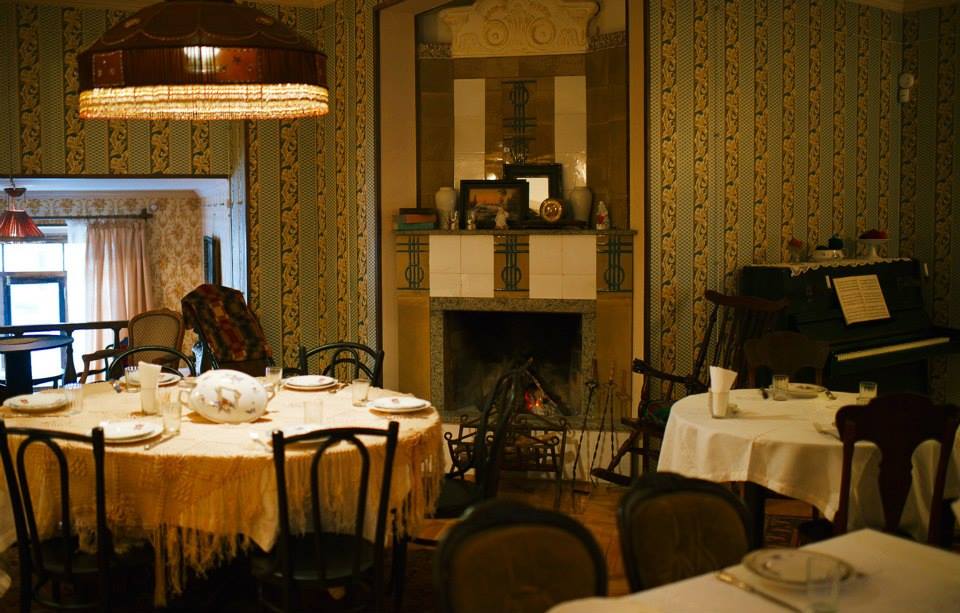 8. Geras Bina
Geras Bina, meaning "with Georgian soul," has no cutting edge artwork, murals or updated decor. Instead, it thrives on the bare bones of Georgian culture: the food, the land and the people. The restaurant transports diners into a classic Georgian home with dignified elegance. Lace curtains flutter over a wrought-iron balcony, vintage floral wallpaper and porcelain dishes resemble your grandmother's dining room, and a simple wooden rocking chair stands beside the fireplace. Dine on hot khachapuri, a dish of bread and salty Georgian cheese, khinkali, Georgian meat dumplings, and a salad of fresh cucumbers and sweet Georgian tomatoes. Complete the meal with a glass of local wine, a song and a toast to the Georgian supra, or feast.
9. Book Corner Cafe
A bright red wall with the word "Cafe" painted in black marks the entrnfce to Book Corner Cafe. Quotes from authors like Salinger and Hesse decorate spaces like its courtyard sheltered by polychromatic, upside down umbrellas. This quiet, poetic cafe caters to the bibliophile with books stacked on shelves and in the bathroom, transformed into lamps and used to decorate the walls. Have a coffee or homemade mint lemonade and admire the paintings, drawings and photography from an array of local artists that bring Book Corner Cafe to life.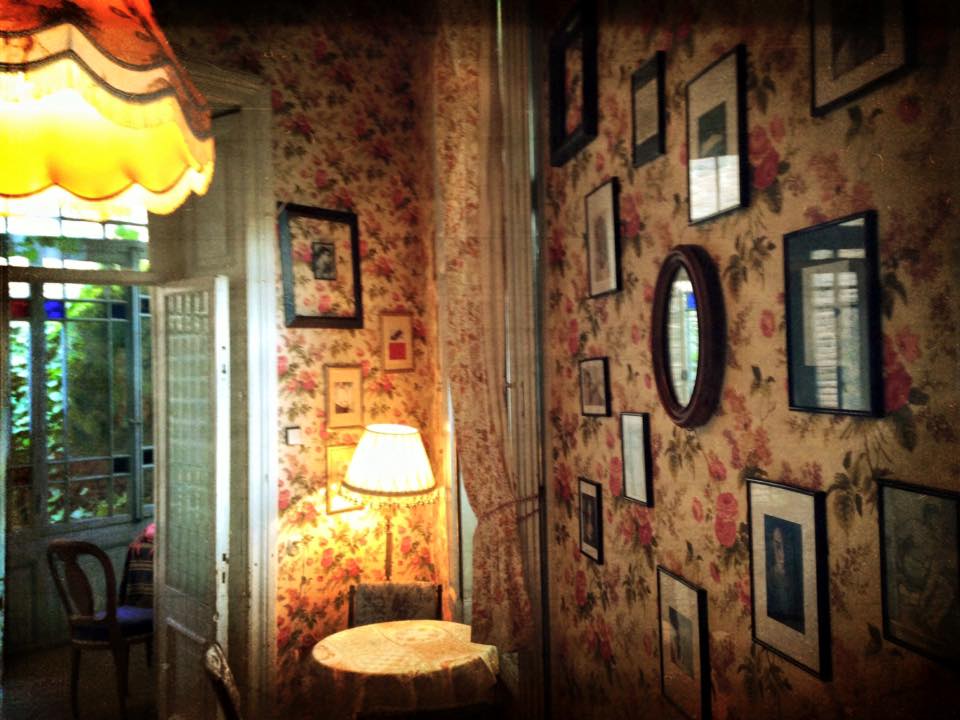 10. Linville
As seen in Vogue Italia, Linville offers an interesting take on elegance. From the quirky upside-down lampshade chandeliers to the television-turned-fish tank on top of a delicate upright piano, Linville has taken the French salon and its Belle Époque and transferred it to the topsy-turvy post-Soviet world. The cafe doors are identifiable by a TamOonz original of women sipping wine. Settle in next to the floral wallpaper with some red wine cake and black tea for a refined twist on a Soviet-style tea party, or return to the classic Saperavi, raise your glass to the Art Nouveau, and toast like the Georgians do: to the land, the food and the people.